I have made references to it, but I regret never fully explaining. In her book
One Thousand Gifts
, Ann Voskamp explains that a friend challenged her to make a list of one thousand blessings/ things she loves/ gifts from God.
In turn, Ann challenges her readers to do the same. I accepted the challenge and have begun my list (some highlights are below).
In turn, I invite you to join me and do the same.
"It's the art of seeing that makes gratitude possible, and it's the art of gratitude that makes joy possible, and isn't joy the art of God?" Ann Voskamp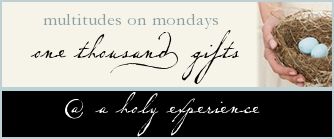 Thankful,
<>< Katie
I am thankful...
1. For Jesus Christ who died and rose again so that I may have hope.
2. For friends who remind me of that hope when I dare to forget.
5. For toilet paper (on the roll).
9. For friends worth visiting.
10. For friends who intentionally leave their Bibles on the kitchen counter open to a specific passage to encourage me.
11. For cold milk in a glass made of glass.
19. For city lights in the dark night sky.
23. For Bible verses and song lyrics that pop into my head bringing the exact message I need to hear.
26. That the coffee I just spilled on my computer did not destroy it.
34. For the iPhone so we can avoid traffic jams.
37. For beautiful views of Your magnificent creation.
41. For encouraging blog comments.
46. For lasagna.
61. For cool nights to snuggle with a homemade quilt, drink in hand, in the jumbo chairs on the deck and watch the sunset with Mom.
70. For pleasant memories and a well-traveled memory lane.
82. For books a'plenty, always books a'plenty.
84. For the deer in the backyard, the oblivious cat, and the
analogy
You dropped from heaven.
88. For the ability to share my thoughts and realize I am not alone.
91. For the prayers and support of friends around the country.
94. For the promise that spring
will
come again.